The ultimate expression of generosity is not in giving of what you have, but in giving of who you are." – Johnnetta B. Cole
VOLUNTEER PROJECTS
*Many volunteer activities are currently virtual due to COVID-19. In-person volunteering requires COVID Vaccination*
Providing meals, teaching yoga, organizing donation drives – all of this supports the work we do every day to save lives. We would love to have you, and your group, volunteer with Liberation Programs. Please complete the interest form below or contact our Development Department at volunteers@liberationprograms.org to learn more!
**Please note that volunteers will need to complete a criminal background check.
These are just some of the things that volunteers have done in the past and continue to do with Liberation Programs.
Donation Drives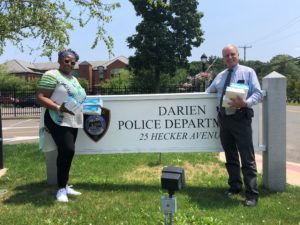 Cobs Bakery in Stamford donates baked goods daily to Liberation House
Numerous volunteers, including the Darien Police Department, collected and donated vital PPE for Recoverees and Staff during the Coronavirus Pandemic
The Cleaning Authority held a food drive to fill the cupboards of the residents of Gini's House
Community volunteer Michelle Luttrell called together 100 of her friends in Darien to provide donations of 100 bags of groceries and personal care items for 50 women in Outpatient Services in Bridgeport.
Activities with Recoverees
Christ Church Greenwich did arts and crafts over Zoom
Certified massage therapists provide massages for Recoverees and staff
The First Congregational Church of Darien visits Lib House monthly for game night
United Rentals volunteers painted counseling areas as part of United Way Day of Giving
Volunteers from the First Presbyterian Church in Wilton provided a soothing afternoon of manicures and coloring for moms at FIRP
A Certified Yoga Instructor offered yoga classes to families living at Gini's House